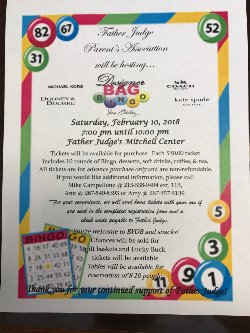 What

FJ Parents' Association Designer Bag Bingo

When

2/10/2018, 7:00 PM

–

10:00 PM

Where

Father Judge High School -- Mitchell Center
Tickets will be available for purchase. Each $30.00 ticket includes 10 rounds of Bingo, desserts, soft drinks, coffee and tea. All tickets are for advance purchase only and are non-refundable. If you would like additional information, please call Mike Campellone at 215-338-9494 x113, Ann at 267-549-8393 or Amy at 267-357-3139. Please see the Designer Bag Bingo flyer for additional details. Ticket request forms are below. Please note, if your son is a Father Judge student and you would like the tickets sent home with him, please complete the FJ Student Ticket Request Form.